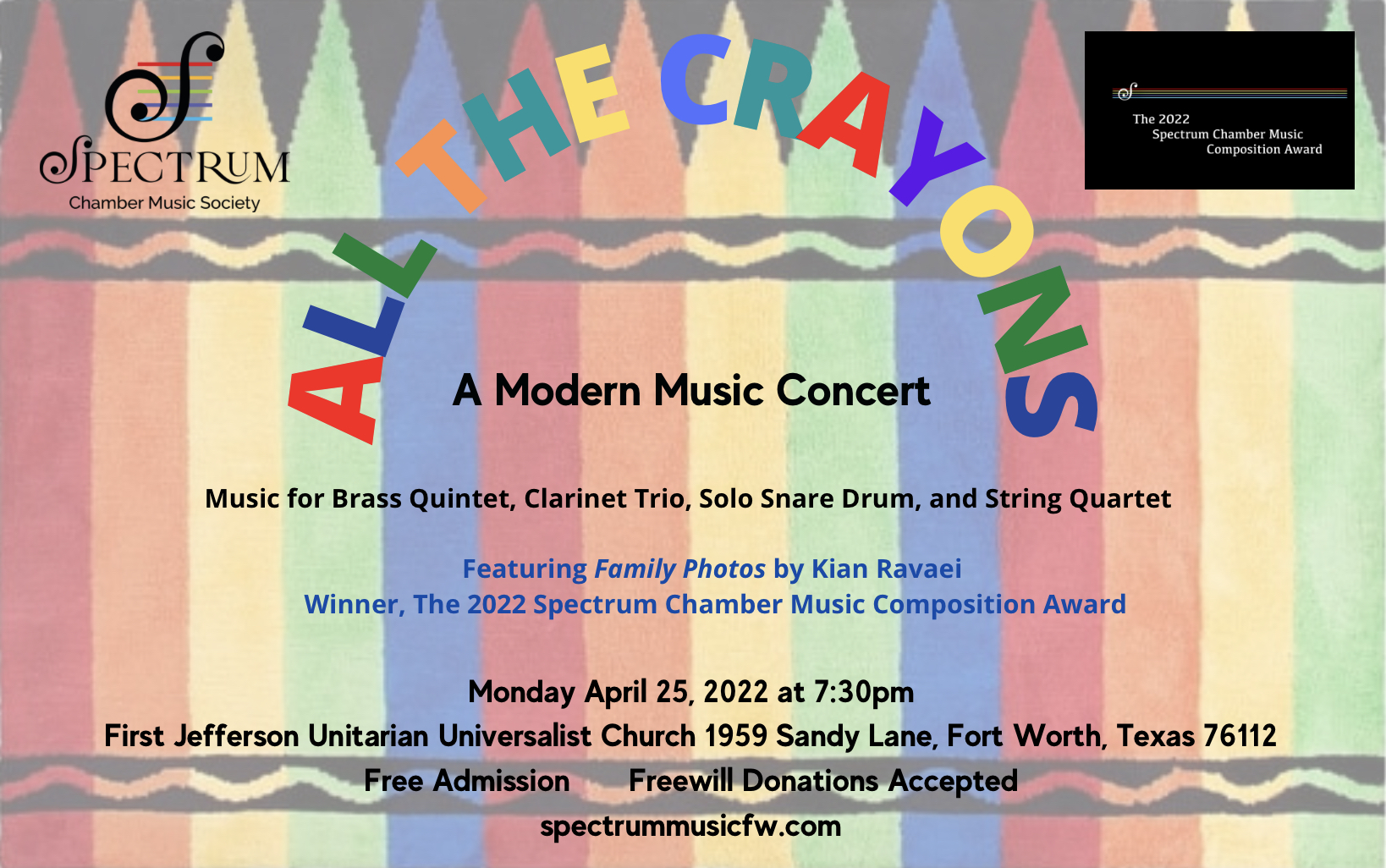 "ALL THE CRAYONS"—A Modern Music Concert
Monday April 25, 2022 at 7:30pm
First Jefferson Unitarian Universalist Church
1959 Sandy Lane, Fort Worth, Texas 76112
FREE ADMISSION—FREEWILL DONATIONS ACCEPTED
(Suggested Amount: $20/Adults, $15/Students & Seniors)
"Modern music" is a simple name for a genre that is made up of many different styles. Even if you think you know what "modern music" is, you may be surprised by the variety. There are many different styles that fall under this umbrella—from the tonal to the atonal, some with elements of traditional classical music as well as Jazz, folk, even so-called "popular" music. Modern composers have at their disposal all the tools in the toolbox…or, to put it another way, all the crayons in the crayon box.
In our first all-modern music concert, Spectrum presents a wide range of styles, from a lively fanfare and sultry, Moroccan-flavored music (both for brass quintet), to the vaudeville- and Jazz-infused salon music of French composer Jean Françaix (for clarinet, viola and piano), to the hypnotic rhythms of the snare drum, to eclectic music that will whisk you to the Middle East and back in about 10 minutes (for string quartet). The thing they have in common? They were all composed within the last 35 years.
This is a special event for Spectrum as we present the winning entry from our inaugural Spectrum Chamber Music Society Composition Award, which received almost 100 entries from composers from across the country and beyond! Kian Ravaei is an L.A.-based composer whose family is from Iran, and his string quartet, Family Photos, is very personal to him—it's a musical photo album of his experiences with his family, both here and abroad. We are pleased that Kian will be joining us for this performance of his work, and look forward to hearing from him in person about his music.
PROGRAM
Jean Françaix—Trio for Clarinet, Viola and Piano (1990)
Ivan Petruzziello, clarinet
Dan Sigale, viola
Tanya Karyagina, piano
James Stephenson—Fanfare for an Angel (2011)
Kerry Turner—Casbah of Tetouan (1994)
Oscar Garcia and Nathan Little, trumpets
Gerald Wood, horn
Michael Hayes, trombone
Ed Jones, tuba
Alexej Gerassimez—Asventuras (2011)
Nicholas Sakakeeny, snare drum
Kian Ravaei—Family Photos (2021)
FIRST PRIZE, 2022 SPECTRUM CHAMBER MUSIC COMPOSITION AWARD
Samantha Bennett and Qiong Hulsey, violins
Tom Demer, viola
Keira Fullerton, cello