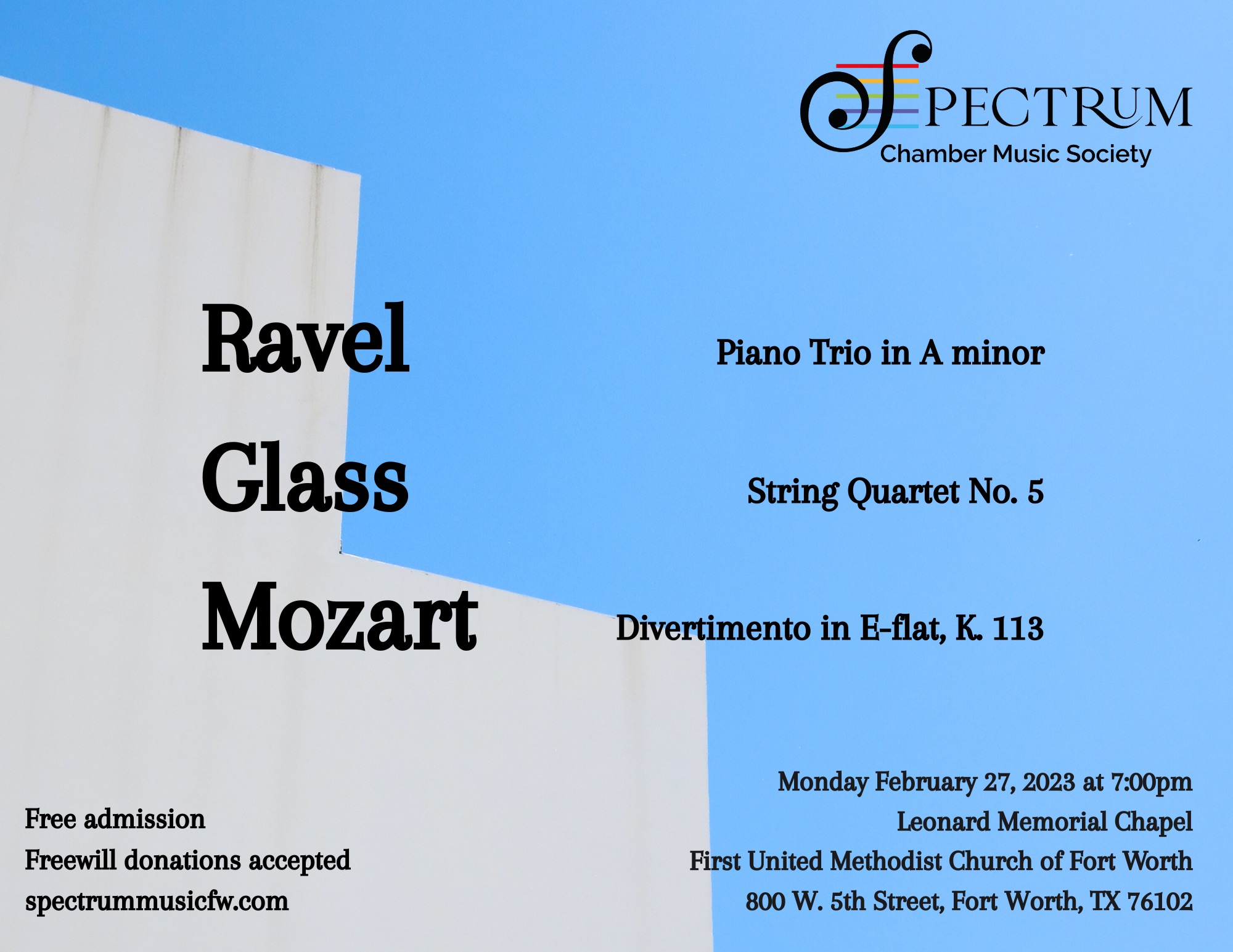 RAVEL/GLASS/MOZART
Monday February 27, 2023 at 7:00pm
Leonard Memorial Chapel (east side of church)
First United Methodist Church of Fort Worth
800 W. 5th Street, Fort Worth, Texas 76102
Free Admission (donations welcome)
(Concert Underwritten by FUMCFW)
This is another one of eclectic programs that Spectrum is known for presenting. We will start with Maurice's Ravel's sensuous Piano Trio in A minor. The second part of the program will include an exciting string quartet by American film and concert hall composer Philip Glass, and end with a classic divertimento for winds and strings by Mozart.
Our theme this season is composers who wrote for the movies AND for the concert stage. It all leads to Lights…Camera…SPECTRUM!, our special movie music fundraising event on Monday May 22 at First United Methodist Church of Fort Worth.

PROGRAM
Maurice Ravel—Piano Trio in A minor
Swang Lin, violin
Keira Fullerton, cello
Shields-Collins Bray, piano

Philip Glass—String Quartet No. 5
Jennifer Betz and Molly Baer, violins
Dmitry Kustanovich, viola
Allan Steele, cello

Wolfgang Amadeus Mozart—Divertimento in E-flat Major, K. 113
Ivan Petruzziello and Ann Hung, clarinets
Gerry Wood and Aaron Pino, horns
Qiong Hulsey and Jennifer Betz, violins
Dan Sigale, viola
Keira Fullerton, cello
William Clay, bass