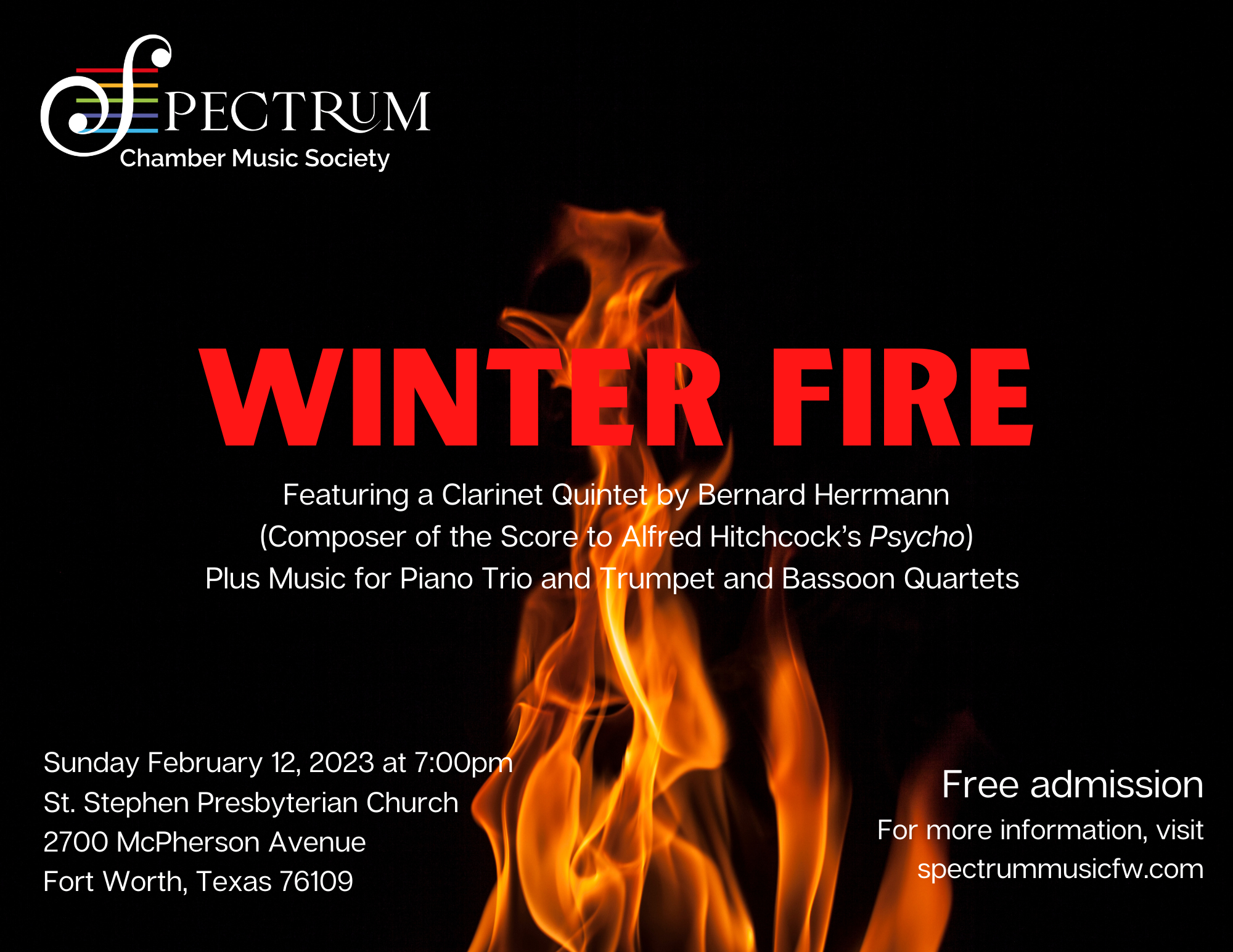 WINTER FIRE
Sunday February 12, 2023 at 7:00pm
St. Stephen Presbyterian Church
2700 McPherson Avenue, Fort Worth, Texas
Free Admission
(Concert underwritten by St. Stephen Presbyterian Church)

Spectrum is thrilled to return to perform in the beautiful sanctuary of St. Stephen Presbyterian Church near the campus of Texas Christian University! Music for four trumpets will set the room ablaze (metaphorically, of course). The second part of the concert features two relatively unknown gems by American film score composers: a piano trio by contemporary composer Nico Muhly and a clarinet quintet by the man whose film score made many people afraid to get into their shower: Alfred Hitchcock's Psycho composer, Bernard Herrmann (in collaboration with special guests from Mount Vernon Music).
This season's theme is composers who wrote for the movies AND for the concert stage. It all leads to Lights…Camera…SPECTRUM!, our special movie music fundraising event on Monday May 22 at First United Methodist Church of Fort Worth.

PROGRAM
David Sterrett: Fanfare and Caprice for 4 Trumpets
Vassily Brandt: Country Pictures
Oscar Garcia-Montoya, Cody McClarty,
David Sterrett and Chris Stubblefield, trumpets
J.S. Bach—Passacaglia and Fugue in C minor, BWV 582
Joshua Elmore, Cara Owens, John Clapp, bassoons
Samuel Watson, contrabassoon
Nico Muhly: Common Ground for Piano Trio
Kathryn Perry, violin
Jenny Kwak, cello
Shields-Collins Bray, piano
Bernard Herrmann: Souvenirs de Voyage for Clarinet Quintet
Ivan Petruzziello, clarinet
Mark Miller and Marina Dichenko, violins
Ute Miller, viola
Laura Ospina, cello