Lights, Camera…SPECTRUM! Music of the Silver Screen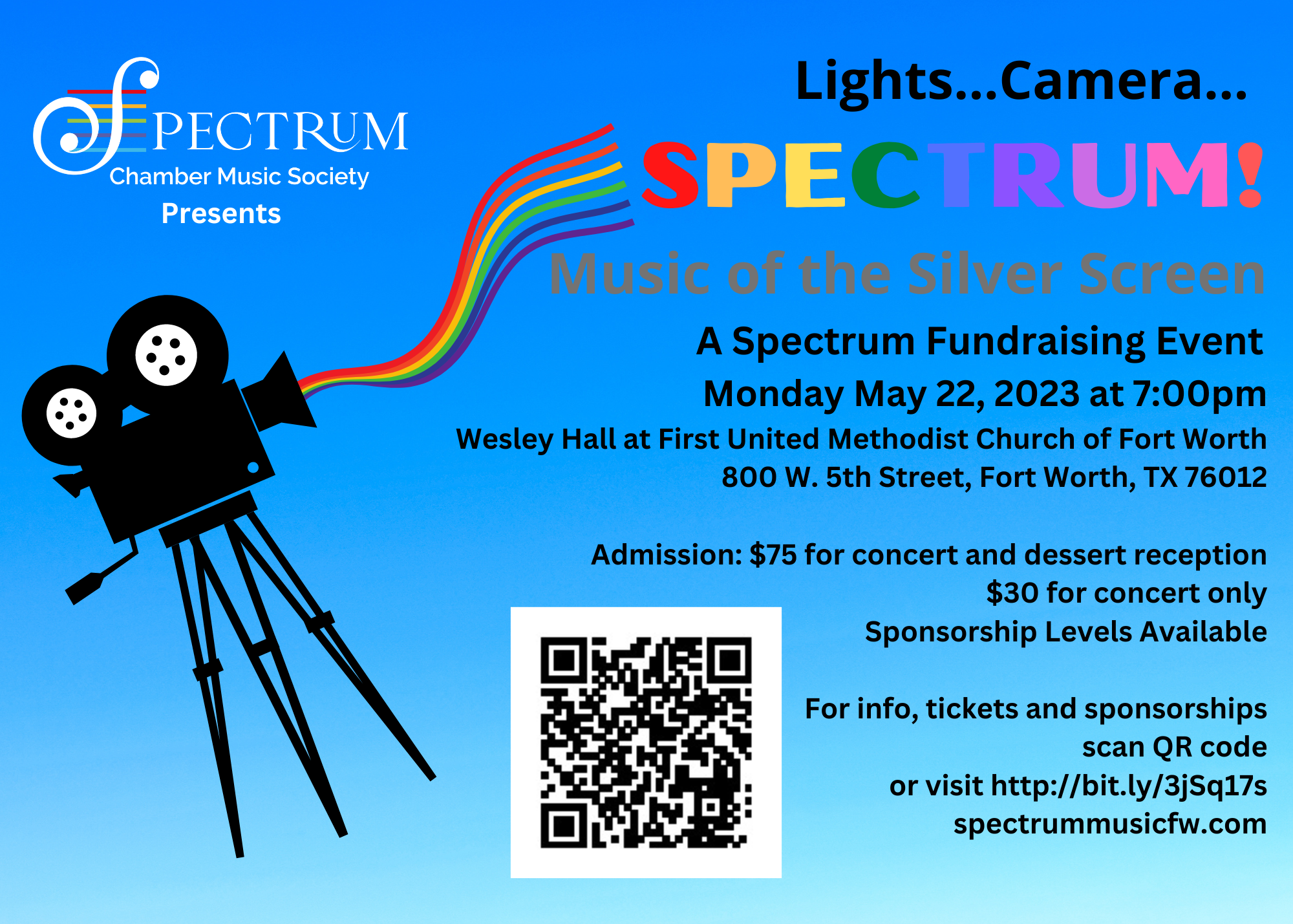 LIGHTS, CAMERA…SPECTRUM!
Music of the Silver Screen
A Spectrum Fundraising Event
Monday May 22, 2023 at 7:00pm
Wesley Hall at First United Methodist Church of Fort Worth
800 W. 5th Street, Fort Worth, TX 76102
Admission: $75 for concert and dessert reception; $30 for concert only
For tickets and sponsorships, scan the barcode above or simply click here.

ONE NIGHT ONLY! Presenting excerpts from exciting and emotional film scores in a multimedia performance that features a giant video screen that will display stills and scenes from the movies as we perform! We may even include a certain iconic shower scene from an iconic Hitchcock film.
And oh yes, there will be popcorn.
The concert will take place in First United Methodist Church of Fort Worth's newly renovated Wesley Hall, which is a fantastic location to experience this salute to film scores and the composers who wrote them.
This multimedia performance alone is worth the price of admission, but you'll definitely want to upgrade to V.I.P. status so you can walk the red carpet past the paparazzi to a special dessert reception in the church's garden courtyard! Our very own creative force of nature, Dotty Hall is working with a caterer to provide a fun and delicious post-concert event that will be all-abuzz with excitement.
This is Spectrum's main fundraising event of the season, so we hope you'll purchase the entire event package…or consider sponsoring us on one of our behind-the-scenes sponsorship levels, which come with V.I.P. tickets, special recognition, and 5 tickets to our house concert raffle ("Director" and "Executive Director" levels only).
JOIN US AS WE CELEBRATE MUSIC OF THE SILVER SCREEN!!!