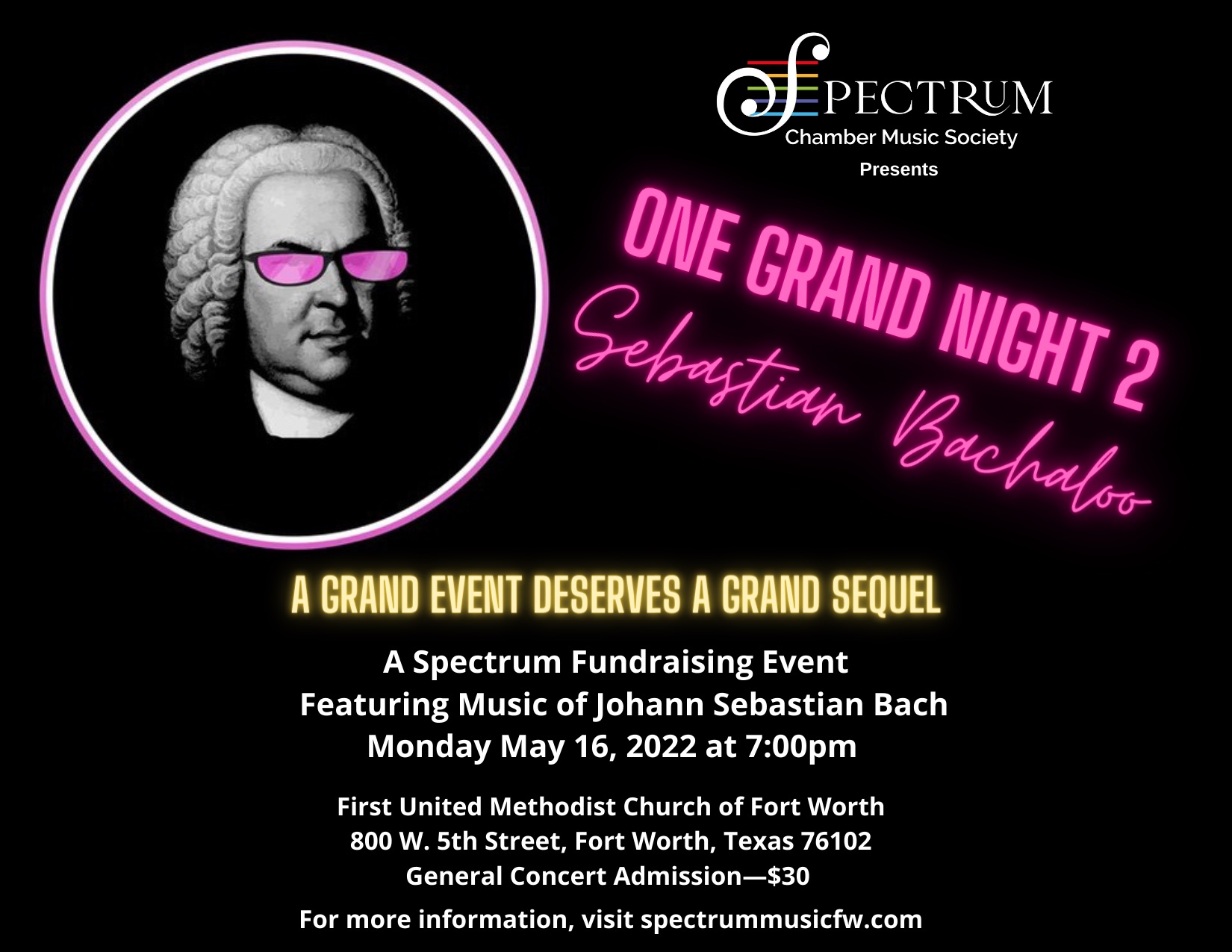 ONE GRAND NIGHT 2: Sebastian Bachaloo
Monday May 16, 2022
First United Methodist Church of Fort Worth
800 W. 5th Street, Fort Worth, Texas 76102
General Concert Admission: $30
(The post-concert reception has been canceled)
Purchase tickets online at our Ticket Tailor page
Last year's inaugural fundraising event, "ONE GRAND NIGHT"—featuring a wind ensemble conducted by Miguel Harth-Bedoya and performing Mozart's Gran Partita—was a huge success. Well, a grand event deserves a grand sequel. And what better to use as inspiration for a title than one of the greatest sequel titles of all time: "Breakin' 2: Electric Boogaloo"? Combine that with the music of Johann Sebastian Bach and you get…"ONE GRAND NIGHT 2: Sebastian Bachaloo"!
Our concert begins with the Fort Worth Symphony Orchestra's Principal Cello, Allan Steele, performing Bach's magnificent Cello Suite No. 1. We will follow that with not one, but TWO of Bach's celebrated Brandenburg Concertos: The spirited Sixth Concerto and the much-beloved Third Concerto, featuring many of the musicians of the FWSO and friends.
**We regret to announce that, due to an insufficient number of advance reservations, we have decided to cancel the post-concert reception and focus on bringing you an outstanding concert program.**
Join us for this very special event!
PROGRAM
J.S. Bach: Suite #1 in G Major for Unaccompanied Cello, BWV 1007
Allan Steele, cello
J.S. Bach: Brandenburg Concerto No. 6 in B-flat Major, BWV 1051
Anna Kolotylina and Dan Sigale, violas
Keira Fullerton, Jenny Kwak and Deborah Brooks, cellos
William Clay, bass
Shields-Collins Bray, harpsichord
J.S. Bach: Brandenburg Concerto No. 3 in G Major, BWV 1048
Samantha Bennett, Ke Mai and Qiong Hulsey, violins
Aleksandra Holowka, Sorin Guttman and Joni Baczewski, violas
John Belk, Shelley Jessup and Laura Ospina, cellos
Paul Unger, bass
Tanya Karyagina, harpsichord