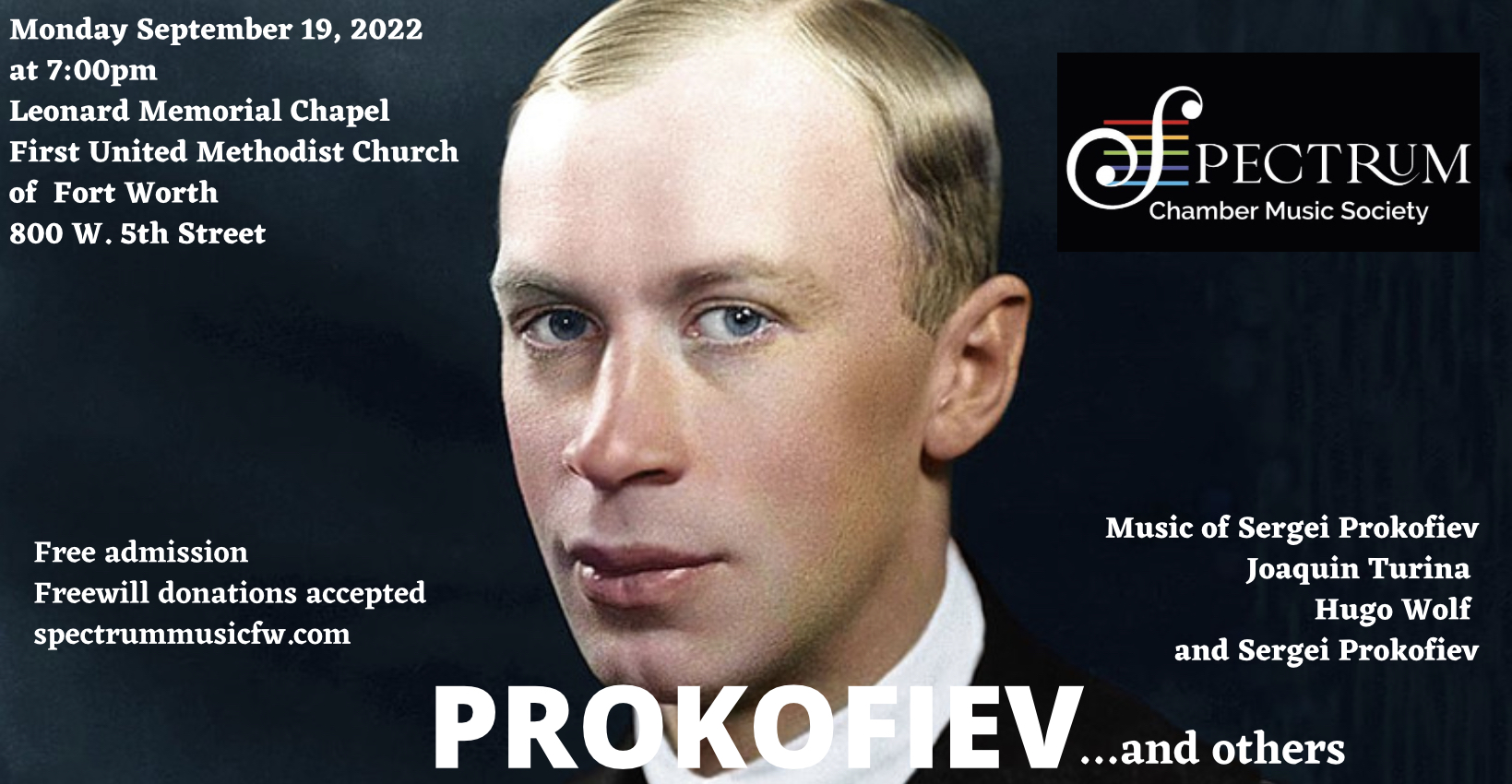 PROKOFIEV…and others
Monday September 19, 2022 at 7:00pm
Leonard Memorial Chapel (east side of building)
First United Methodist Church of Fort Worth
800 W. 5th Street, Downtown Fort Worth
FREE ADMISSION—FREEWILL DONATIONS ACCEPTED
(Suggested Amount: $20/Adults, $15/Students & Seniors)
Sergei Prokofiev is best known for his grand ballets and, of course, the children's classic Peter and the Wolf. On this concert we will feature two of his wonderful chamber music pieces: His Sonata for Two Violins and his Quintet for Winds and Strings.
Prokofiev also composed celebrated scores for film, perhaps the most popular being music from the 1934 Soviet comedy, Lieutenant Kije. Listen for some of his film music at our special May 22 concert, Lights…Camera…SPECTRUM!
Rounding out the program is two shorter but delightful string quartets by Spanish composer Joaquin Turina and Austrian composer Hugo Wolf.
PROGRAM

Sergei Prokofiev—Sonata for Two Violins, Op. 56
Kathryn Perry and Molly Baer, violins
Joaquin Turina—Bullfighter's Prayer
Hugo Wolf—Italian Serenade
Samantha Bennett and Qiong Hulsey, violins
Dmitry Kustanovich, viola
Keira Fullerton, cello
Sergei Prokofiev—Quintet in G Minor, Op. 39
Jennifer Corning Lucio, oboe
Ivan Petruzziello, clarinet
Kim Torgul, violin
Dan Sigale, viola
William Clay, double bass