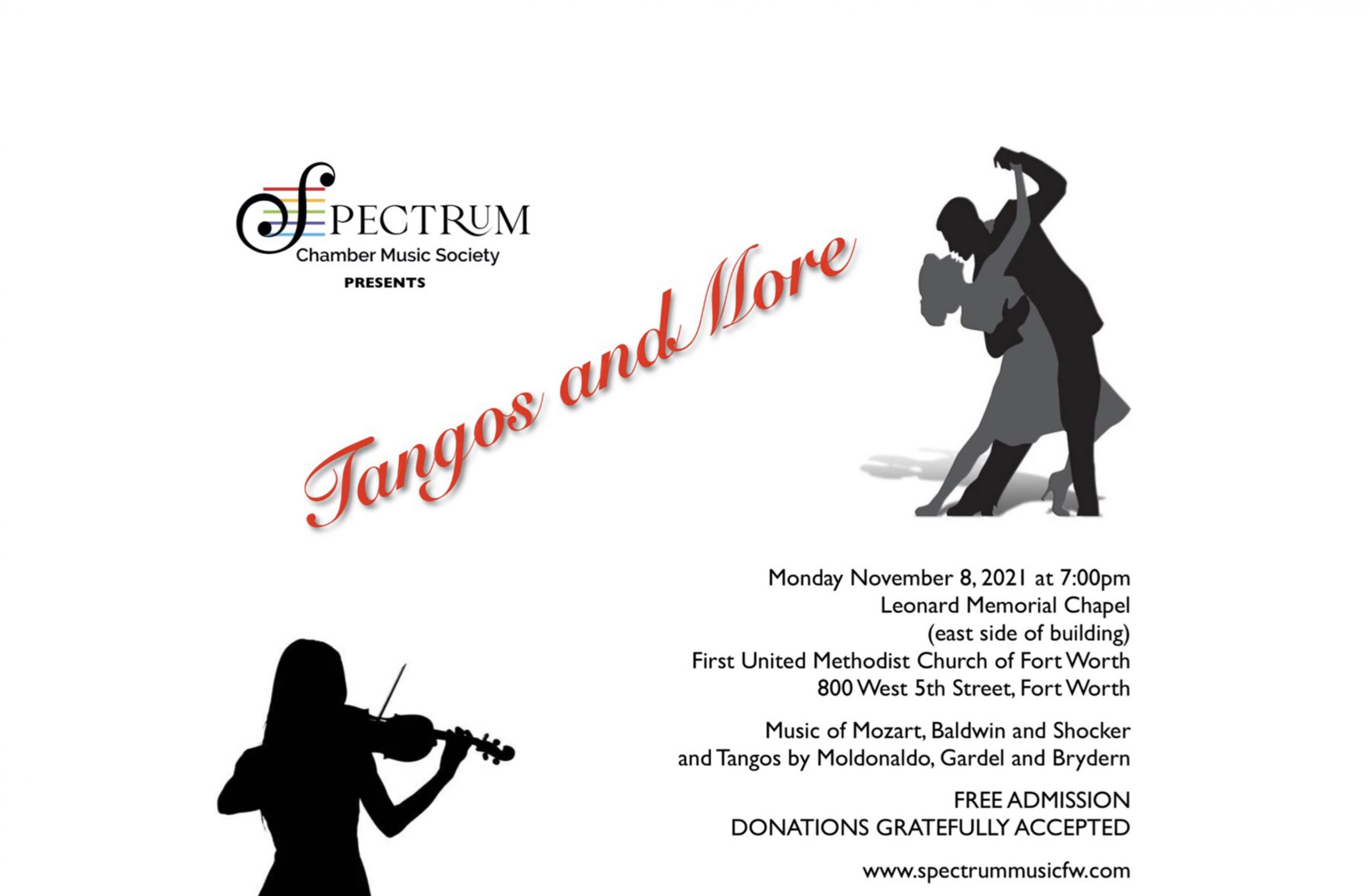 TANGOS AND MORE
MONDAY NOVEMBER 8, 2021 AT 7:00PM
LEONARD MEMORIAL CHAPEL (east side of building)
FIRST UNITED METHODIST CHURCH OF FORT WORTH
800 W. 5TH STREET, FORT WORTH
Our first downtown concert of the season takes place in the intimate space of Leonard Memorial Chapel, and includes playful tangos by some composers not named "Piazzolla".
Also on the program:
—A charming Mozart duet sonata, featuring the Fort Worth Symphony Orchestra's new Principal Bassoon, Joshua Elmore and Principal Cello, Allan Steele.
—A pair of evocative pieces for winds and piano; one will transport you to the ruins of a Hopi village in Arizona, and the other will keep things simple with musical scenes representing common outdoor spaces.
PROGRAM
Daniel Baldwin (b. 1978)—Awatovi for Oboe, Bassoon and Piano (2018)

Tamer Edlebi, oboe
Cara Owens, bassoon
Michael Bukhman, piano
Gary Schocker (b. 1959)—Airspace (2018)
Pam Adams, flute
Jennifer Corning Lucio, oboe
Gary Whitman, clarinet
Michael Bukhman, piano
W.A. Mozart (1756-1791)—Sonata in Bb Major for Bassoon and Cello, K. 292
Allan Steele, cello
Andres Maldonado (b. 199?)—Tango for String Quintet (2016)
Carlos Gardel (1890-1935)—Por una Cabeza (1935)
Benedikt Brydern (b. 1966)—Tango nuevo (2010)
Molly Baer and Dylan Naroff, violins
Dmitry Kustanovich, viola
Keira Fullerton, cello
William Clay, double bass