BRAHMS! TANGOS! And a Touch of Rota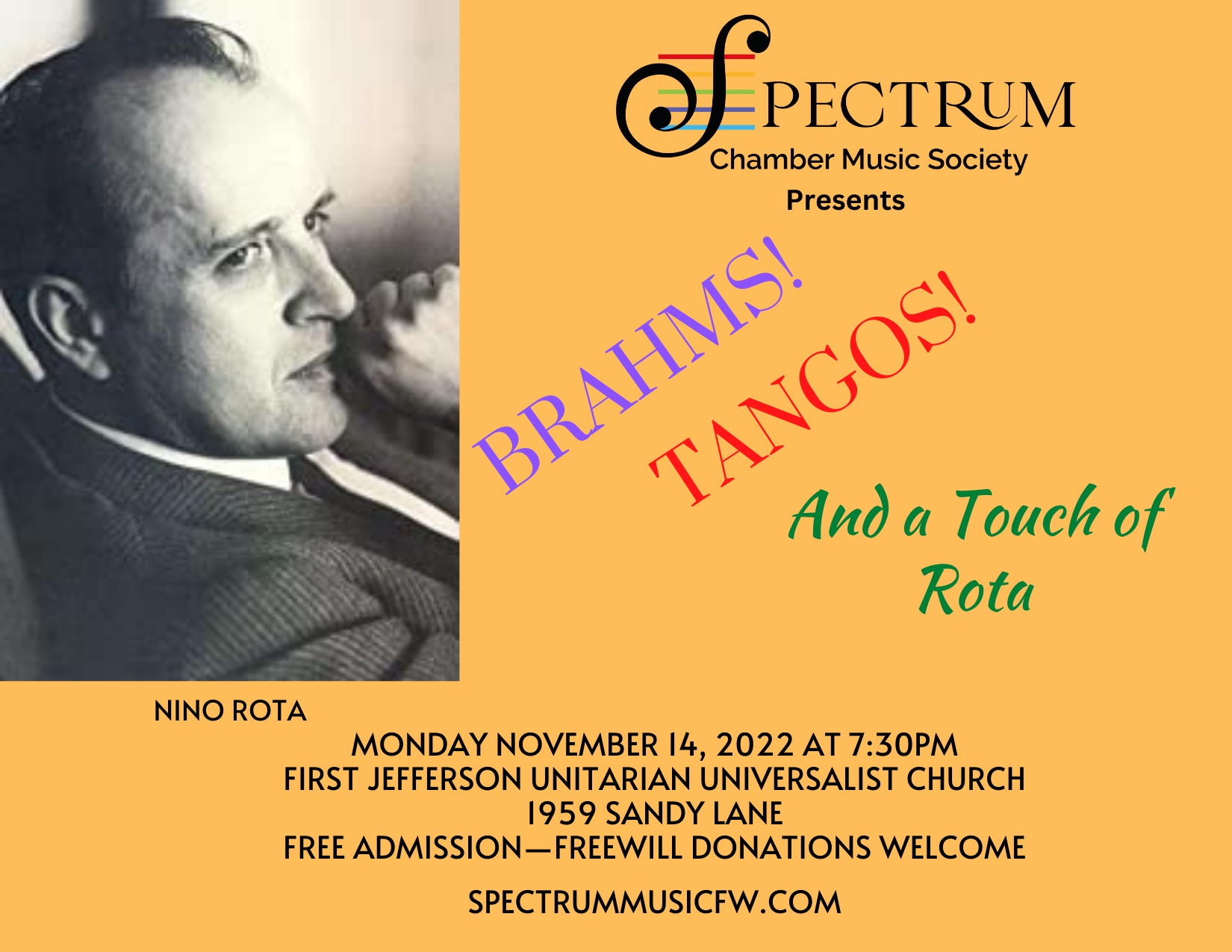 BRAHMS! TANGOS! And a Touch of Rota
Monday November 14, 2022 at 7:30pm
First Jefferson Unitarian Universalist Church
1959 Sandy Lane Fort Worth, Texas 76112
FREE ADMISSION—FREEWILL DONATIONS ACCEPTED
(Suggested Amount: $20/Adults, $15/Students & Seniors)

This season we are featuring composers who wrote music for both the movie theater and the concert hall, culminating in our spring movie music concert, Lights, Camera, SPECTRUM! For this concert, we feature a charming Toccata for bassoon and piano by Nino Rota, who is best known for his scores to the classic films, The Godfather and The Godfather, Part II (for which he earned an Academy Award).
Is Tango becoming the official music of Spectrum? Well, we could certainly do worse than to showcase the music of this passionate Latin dance style, which is always a crowd-pleaser.
The three quartets for piano and strings are some of Johannes Brahms's most beloved chamber music, filled with power and emotion. The first of these works, the G minor quartet, is arguably the most popular, especially due to the fiery rondo in its final movement. It's quite a ride!

PROGRAM

Nino Rota—Toccata for Bassoon and Piano (1974)
Cara Owens, bassoon
Shields-Collins Bray, piano
Angel Villoldo—El Choclo
Astor Piazzolla—Oblivion, Contrabajeando, Celos
Jacob Gade—Jalousie "Tango Tzigane"
Molly Baer and Samantha Bennett, violins
Colin Garner, viola
Keira Fullerton, cello
William Clay, double bass
Brahms—Quartet No. 1 in G Minor for Piano and Strings, Op. 25
Mikhail Berestnev, piano
Samantha Bennett, violin
Dmitry Kustanovich, viola
Allan Steele, cello